I've been nervous around my dad many times. And for all sorts of reasons but as a youngster it was mostly because I had done something wrong and punishment was coming down, sooner or later. Or other times growing up like when he was teaching me and my brother and sisters to water ski or basically teaching us to do anything near the water. That was his domain, hey he was in the Coast Guard for 27 years! If we couldn't get it, we were sent to the poop deck!
As a young adult it was less about discipline coming from the former Coast Guard captain, and more about what he might say in front of friends about his single sons! "Any single girls out there… with insurance??" he would say. 
That line of questioning is an ongoing saga/joke in our family, but ya know what? I'm really happy to have a dad who cares about my life, even when he tries to play matchmaker. But I promise this isn't about my life as a Hallmark movie, so moving right along…
This post is about back when I was in middle school in Stafford, Virginia. The years we lived there we attended Mount Ararat Baptist Church pastored by Dee Williams. We were faithful churchgoers on Sunday mornings, Sunday evenings, and Wednesday nights, too. My brother, who was year and a half older than me back then, and I had a lot of the same friends, and one was Daniel.
Daniel was out riding his bike one day. I think it was some kind of bicycle ride fundraiser thing. He had a 10-speed so the tires were really skinny. Well, partly because of that, when Daniel's front tire hit a rock, Daniel went over the handlebars. It was bad. He hit the pavement face first and was rushed to the hospital. He had to have surgery, stitches, all that, but I don't remember the exact extent of his injuries, except that it was bad.
So the first weekend that Daniel was back home, my brother and I wanted to visit him. He lived across the street from the church. Sunday we all spilled out of the van but instead of going to Sunday School like we were supposed to, my brother and I went over to see Daniel. Well, long story short, we ended up hanging out with him and missing church completely!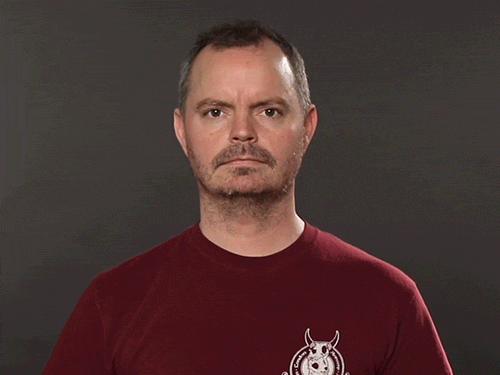 We were in for it.
"What, you don't love God anymore!???" our dad would challenge.
"You're terrible people." he would say.
"Wash the van with your tears and a small rag!!" he would demand.
But it wasn't like that at all. In fact, it was so much the opposite. Our dad was actually proud of us.

The day went on as a usual Sunday but I won't ever forget the surprise of that day. I was expecting a fatherly fallout, a patriarchal poop deck punishment, a dad discipline to match the offense of missing a church service. Instead it was a pat on the back. He asked how Daniel was doing. He knew something I didn't know way back then: relationships trump ritual every day of the week.
My relationship, and my brother's, too, with Daniel was more important that day than going to Sunday School, than sitting to hear a sermon from Dee (sorry pastor, wherever you are!), than going through the motions of being a Christian. So on an pretty ordinary Sunday I learned something about my dad and from my dad:
My dad is full of surprises.
God is more interested in relationships than rituals.
Sometimes it's OK to skip church. 😉
Thank you Dad, and happy Father's Day from your slightly more favorite son!
-Ben