This is… American Idol. 
I was working at a camp with no TV, no news, basically cut off from the outside world. So when I returned to civilization, I didn't know how big American Idol was that first season. As you know, it went on to be an extremely successful reality/singing show.
Little rascals with big voices.
It was somewhere around 2001 and I had a friend I worked with that loved country music. Well, I didn't really know that till she said one day that she loved a band called "Rascal Flatts." I had no idea who they were. I still vividly remember wondering who this band was. Fast forward and well, they're one of the biggest country bands ever. I was definitely late to the party on that one! But they're such nice guys and hey, one of their wives was even kind enough to promote my book (scroll down to 'reviews' on this link), so how could I not be a big fan!
Can you hear me now?
I remember when I first heard of Verizon. I was determined to pronounce it "Vare ih ZON" because I was annoyed at how close Verizon was to "horizon." I didn't know their company name was a combination of veritas and horizon. My commitment didn't last long since everyone else was saying it the way it was supposed to be said. Anywho, they've been my carrier since the mid-2000s and I don't think I've ever regretted it!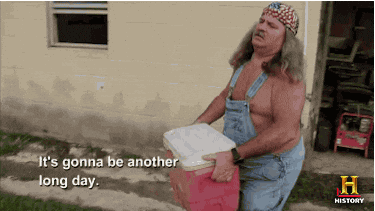 Great, I'll see you at 4am.
The term "Free-lance work" was about as foreign to me as Zimbabwe before I moved to Nashville. I mean, I'd heard of it but didn't really know much about it, except that as a newbie in video/TV production, it was intimidating. But after working here for a few years, the term became as common to my life as breathing.
What? Our whole history is in this house. You can't just sell it out from under us and act like it's not a big decision. -Crosby
I thought, what's the big deal, ya know? It's a TV show. It's about a family. OK, that's been done before. But whoa, was I wrong. One of the best, if not the best show I've ever seen. From the topics, to the humor, the soundtrack, it's so good. Now when I hear someone mention the show, I don't snort a snarky reply. My eyes widen and I smile!
You spin me right round, baby, right round.
A couple of neighborhood kids came over to the fence to pet Piper and Asia. One of them had this little trinket. I asked and he said it was a "fidget spinner." I thought, "Hmm, that's a clever little toy. I wonder if anyone else has seen these things." I think you know the answer to that. I can't remember the last time something blazed through the country like fidget spinners did. Maybe beenie babies?
Let's go! 
The latest addition to my list of things I've never heard of till they're already everywhere is "Dude Perfect." If you haven't seen them yet, check out any of their crazy trick shot videos (like the one above featuring fidget spinners) or their stereotype videos and you'll be hooked. They're so good, some folks think it's all set up.
What are a few things you hadn't heard of till the explosion already happened?
-Out of the Wilderness