…at times the path way has been steep and rocky, sometimes treacherous even, but by going to Him in prayer, in medication, in reading His word, He has sustained me EVERY TIME.
Grand-daddy Davis
My grandfather wrote those words to me in 1991, not knowing that 26 years later his grandson would be self-employed and learning what "sustain" really means. And I love that he capitalized "EVERY TIME." It's like having a best friend that never can't hang out,  that won't ever decline to show up. I also love to think about God using this definition from dictionary.com…
That's what God promises to do for us. Amazing! It's so much farther beyond just the physical (money, food, etc), too. It's also emotional, spiritual, sanity, temper, fear, anxiety, worry. This whole interest in God as sustainer and provider really gained traction this year, 2017. But I guess the story dates back to when I was laid off a couple years ago (early 2015). That year flew by as I rode out my severance package. 2016 was an adventurous year as I pursued less traditional forms of income (I wrote a book!). When 2017 rolled around it was a lot like the previous year, until tax season.
You dropped a bomb on me!
I didn't realize how much I'd owe till I totaled up everything from 2016. And I also tithe around tax season, so my checking account was about to take a hefty hit. Thankfully, I survived… though there's a water line on the wall of my checking account, much like when a flood recedes. This line here is how much you used to have… now, you're waaaaaaaaay down here.
So as I was monitoring my accounts more closely, I began praying more earnestly. What does the Bible say about who to trust, who will provide, and all that? Well, the answer is easy: God. But I guess when I was on a salary, I never really thought about that sort of stuff. The checks go in automatically, the health coverage is taken care of, there's not a scramble to make ends meet.
Look at the birds of the air; they do not sow or reap or store away in barns, and yet your heavenly Father feeds them. Are you not much more valuable than they?
Matthew 6:26
This is the year of trusting God to sustain me, like Grand-daddy did. The first real example was tax season, like I mentioned. But then not too long after that, my computer froze up. One Apple computer later, I was actually excited to get to trust God for a way to keep working (I edit videos as part of my income) and at the same time, not losing my mind out of frustration!
Don't get me wrong, I have a long way to go. It's a daily thing, and often I'm like: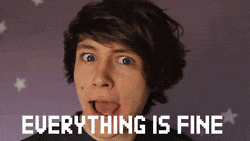 But I love Proverbs 23 and 30 that have two great advices…
"Don't wear yourself out to get rich; stop giving your attention to it." Then in chapter 30, "Give me neither poverty nor wealth; feed me with the food I need. Otherwise, I might have too much and deny You, saying, 'Who is the LORD?'; or I might have nothing and steal, profaning the name of my God."
I think we all have an opportunity each day to trust God to sustain us. And it's amazing, SO AMAZING, when we recognize Him doing it.
-Out of the Wilderness