If you live in a big city (think Atlanta, NYC, Los Angeles, etc), you probably already know exactly how this blog is gonna go. Traffic is the worst, right? Afternoon rush hour has turned into afternoon rush afternoon here in Nashville. Especially if you throw rain into the mix, or, ya know, just the threat of gentle spring shower. FREAK OUT!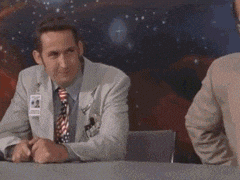 And don't try to pick up bread and milk at a grocery story, because the shelves will already be empty! But there's more to the traffic problem and no peanut butter and jelly sandwiches than just precipitation. Here in Nashville, we have the problems a lot of growing cities have: construction (some say the state bird is the crane), school zones, plus area population growing by more than 100 people per day.
My top 5 reasons traffic is the way it is…
Bumper to Bumper the avenue was packed.
-Vanilla Ice
1. Construction. If you visit downtown Nashville anytime between 8am and forever, you're going to get stuck behind 30 cars, a dump truck, and a lane that's closed off.
2. Population growth. As mentioned, the population is growing by over 100 a day. Most are folks moving here, so I guess some are babies being born. They don't account for the bad traffic, but give it 16 years and watch out.
3. Weather. Lots of this makes lots of traffic.

4. Hello road rage. People are angry. When bottlenecks, slowdowns, and stupidity happen on the road, people get mad. Mad people make quick decisions. This often leads to mistakes. I give you, Exhibit A. Watch the dark sports car in the far left lane. This accident was caused by a dump truck abruptly slowing down for no apparent reason.
People making decisions out of sheer rage can often lead to even more traffic problems. This also leads directly into the next cause…
5. People think rules don't apply to them.

These drivers might not directly cause bad traffic, but when their driving leads to wrecks, police involvement, or when they cut ahead of people, traffic is affected.
So here are the takeaways:
1. Everyone just needs to chhillllllllllll. It's all gonna be OK.
2. Stop moving to Nashville. It's not that great and the traffic is horrible. 😉
3. If you live in a city or town where traffic gets bad, leave earlier than you originally planned.
-Out of the Wilderness