There's a lot to like about this video. For starters, it's so thoughtful. Macklemore tugs at all of our sentimental heart strings when he flies to Modesto, California to surprise his grandma on her 100th birthday. He takes her around for an entire day to do whatever she wants. They shop, sing karaoke, egg a house, and what might be the best part– ride around in a '76 Cadillac Eldorado with the top down. The land yacht is a beastly 2.5 tons (5,000 lbs) and it's a real beaut! Perfect for a sunny California day.
One of the first locations in Modesto is Hy-Step Shoes. Grandma Helen ends up with a pair of Yeezy Boost 350s which, in a surprise plot twist, are not even available at Hy-Step. But Macklemore's got a "shoe guy" so one Craigslist-like-parking-lot deal later, the shoes are hers.
Their next stop is Runaround Sue's, a karaoke bar with only a 3-star Yelp rating! Reviews refer to fights, bad service, and while one person gave it 5 stars for an "excellent mixture of crowd," another gave it 2 stars for "lots of thugs & bar flies." I guess beauty is in the eye of the beholder.
They have fun though, singing karaoke with Elvis Presley's "I'm All Shook Up" to the delight of the thugs and bar flies there. "…Well, she touched my hand what a chill I got / Her lips are like a volcano, that's hot / I'm proud to say that she's my buttercup / I'm in love, I'm all shook up…"

After that they hit up the arcade, classic birthday party location. Skee-ball, duh! They play a few other games then it's on to… drum roll, please… GROCERY SHOPPPIIIINNGGG! Wait, grocery shopping? Well, it's her party. Can't pass up a BOGO deal, I get it.
They hop back in the Caddy and cruise around, Macklemore gets a tattoo of his g-ma's name, then it's off to the ladies consignment store called Second Chance Consignment and Costume Store. After that they head back home for a surprise party including her friends and a male stripper. And no, unfortunately it's not Officer Goodbody, for all you Friends fans out there.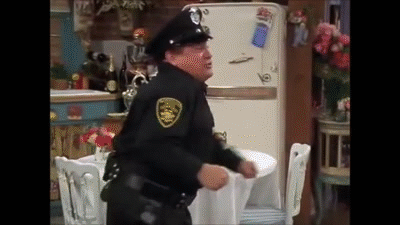 As the day winds down they take the Cadillac to a lake. If I had to take an educated guess, I'd say it's Woodward Reservoir Park based on the looks of the lake, the background, and it's proximity to Modesto.
A great video that will surely keep making people cry happy tears all over the world.
-Out of the Wilderness