I'm walking around in a robe, I've taken back-to-back baths in back-to-back days, and I have a cold. That can only mean one thing…
I'm back in Nashville after a busy, yet terrific, holiday vacation in Florida!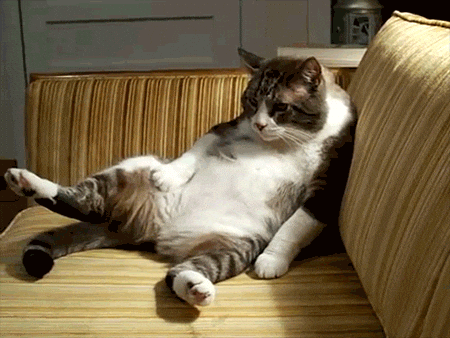 Like this cat, I've pretty much quarantined myself indoors to rest, recuperate, and catch up on Netflix. A couple of so-so movies? Done (Bright and Pottersville). Fuller House? Done. Riverdale? Working on it.
While I've been wasting away on the couch– not reaching my goal of 160 miles in 60 days, tissue within arms reach, cup of apple juice on the table tray, covered in 37 blankets– the thought dawned on me that I seem to get sick every time I come back from Florida. So is it that I'm allergic to Tennesseee, or do I just wear out my body in Florida because who else is going to beat my nieces at croquet, lose to my brothers football team on the beach, brag way too much on the driveway playing knock-out, or help build a gigantic sandcastle?
So now I pay for it. But there's something else I sometimes catch when I'm down visiting family in Tallahassee. Nostalgia. This trip I got a big dose when we dug up a few VHS tapes from the 80s and 90s. Long story short, we've been looking for a couple of specific events that were recorded but haven't been seen in years. While we were looking through tapes one day, we found video of our entire family taking part in a live nativity scene. My dad was Joseph, Mary was one of my sisters, and my mom was a wise man. Not sure how those parts got divied up, but whatever. I was a shepherd, along with my oldest sister and my brother.
We also found video one of my sister's high school track meets, and another tape had both sisters' "after prom" party. If you've ever wondered how teenagers danced in the 90s, wonder no more.

I think one of those dancers would be reported for sexual harassment in today's world, but I'm not saying who *cough, cough, white guy doing pelvic thrusts*
Since returning to Nashville, I've been going through VHS tapes I brought back with me. I've seen clips from my family that I haven't seen in decades. It's definitely put me in a nostalgic mood. I also am fortunate that my birthday is late December, so the past couple of days have included thoughts about what I want next year and my next year, to look like. Watching these old videos helps me to reflect on the almost 4 decades I've been on the planet, and what direction I want my life to go in the next 4 decades. Of course, I also stumbled across this: me playing the trumpet next to my best middle school friend, JR:

Dang, I wish I'd held on to that trumpet!
My goals for 2018 are pretty simple, but if I can accomplish them, that'll be a big step in a great direction.
Give more. Serve more.
I know it sounds a bit vague but this theme encompasses my time, my money, my attitude, and my heart. So when opportunities arise to give or serve, whether it's helping a neighbor, serving at church or in the community, I want to say yes when I'm able to.
As for me in this moment, I'm taking my robe, my apple juice, and I'm turning on Riverdale. Good day to you, and have a happy 2018!
-Out of the Wilderness