It's an election year so you know exactly what that means. More ads on TV than we can handle promoting this politician or that one. For so many years, most of these ads conclude with, "I'm so and so, and I approve this message."
I've never really looked into it and maybe you have, but in case you haven't I'll share my findings now.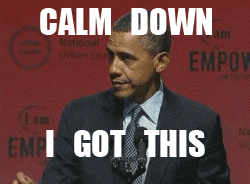 Basically, since 2002 it's required by law ("Stand By Your Ad" provision) for a candidate to use the language in any ad they produce for television. It's supposed to keep politicians from getting into mudslinging when it comes to their competition. It's the idea that I, running for a certain office, wouldn't want to associate myself with an ad that calls my opponent a hurtful name or says something personal or too dramatic about them, so because I must include my name, I'll keep the ad from being too aggressive or dirty. If you want more details about this, click here for a good article about it all.
There ya have it! That's the reason for the next 9 months we'll be hearing this day in and day out. If you're like me, you don't exactly care to hear it and it's more annoying than anything else.
Anyway, thanks for stopping by to check out this post. My name is Ben, and I approve this post.
-Out of the Wilderness