There's eye contact. Laughing. An attractive woman with a pretty smile. She touches his arm playfully. He compliments her style. This has all the makings of a great relationship forming. But what happens when there's one thing, one critical thing, missing?
It might not be apparent on the first date, or even a 5th date, but have you ever been out with someone only to realize you don't have romantic feelings for them? Whether you ever admit it to them or not, I imagine it's happened to most of us at least once.
So let's get personal, shall we? Earlier this year I spent time with someone in whom I was hoping to have interest. There was clearly an attempt on both of our parts to strike the match for a romantic spark. We went out a few times and saw each other quite a bit in "non-date" scenarios. All that to say, we were able to see each other's personalities pretty well, and I was purposely trying to be a gentleman throughout the entire dating relationship. I know I've got a long way to go, but I'm generally happy with how I behaved. Well… that makes one of us!
I'm not one to leave things hanging or to assume she can read my mind so once I knew I didn't have feelings for her, I wanted to talk about it. Now, I'll be the first to admit I'm not one who's known for being tactful. I've got none! But I made a point to be kind, considerate, and to muster up at least an ounce of tact. It must not've worked. Somehow my approach for sharing my feelings was off-putting and she took the opportunity to let me know. Let's just say she had a spirited response…
…which was 17 pages. FRONT AND BACK!!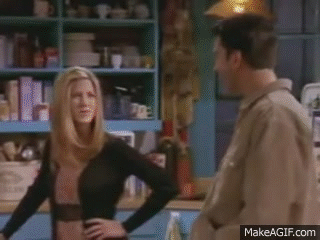 OK, it wasn't as dramatic and the Ross and Rachel saga, nor was it more than 10 or 11 pages, but she was clearly upset and told me all about it. And just so you have all the facts, she also didn't have romantic feelings for me! The verbal lashing seemed to be out of left field, and what I couldn't figure out is who she thought she was talking to? And I don't mean that in a puffed up kind of way. What I mean is that she derided pretty much my entire approach to our dating relationship, the same dating approach I was proud of! Surely she was thinking about some other fellow, right?
Way back in the back of my mind I couldn't help but think what really upset her is that I brought it up first. Maybe she wanted to be first to say there wasn't interest. I honestly don't know, and won't ever know, because after I defended myself, and spent time considering her comments, I let it go. Any further communication would not have been helpful to either of us.
What helped me through this is remembering I can only marry one person. So every other person in the entire world is someone I didn't marry. Makes sense, right? These other people… either I didn't know them, didn't date them, or didn't have romantic feelings for them. Those are all the options. So this latest relationship is simply one of the ones that aren't the one. I wish her the best…
As tje band Queen said, "Another one bites the dust!"
-Out of the Wilderness